The rain. Oh, lord, the rain.
We arrived at Mt Smart Stadium around 6.15pm and quickly joined the crowd lined up at Gate S, a small gate giving access to the South Stand, an uncovered, seating-only area at the opposite end of the stadium from the large stage set up to house the Foo Fighters and opening act Weezer.
Given past experience with shows at Mt Smart, and as Weezer were starting their set at 6.30pm, we figured that fifteen minutes would be more than enough time to get into the stadium – heck, even if it took a little longer, we'd only miss a song or two. We could live with that.
We didn't factor in just how odd this little gate was, with only a few lanes at the actual gate causing a massive bottleneck – plus, every single person going into the stadium was being thoroughly scanned with a metal detector, causing further delays. The result was that we didn't get to our seats until after 7.00pm, having missed the majority of Weezer's opening set.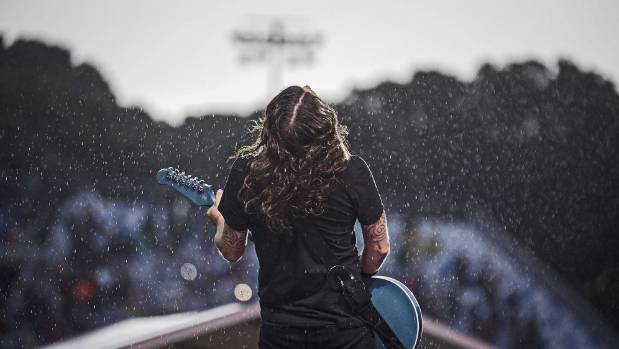 Oh, we could hear them from outside in the queue. It sounded like they nailed "My Name Is Jonas", "Undone (The Sweater Song)" and a cover of the Pixies' "Where Is My Mind", among much else. And when we made it inside, they rattled off a string of hits including "Buddy Holly" and a rousing rendition of "Say It Ain't So". But it was somewhat bittersweet.
A short break later – and after an unsuccessful hunt for a rain poncho, a warm cup of tea and a spicy Fritz' Weiner – the Foo Fighters took the stage; this was my fifth time seeing the group live, but first since 2011, and I was extremely excited when they took the stage and opened with "Run", the lead single from their latest album, Concrete & Gold. I've not been a huge fan of Concrete & Gold, but this song – and the second single "The Sky Is A Neighbourhood", which they played later in the set – both seemed like they were built to excel in a live environment, both sounding great in the stadium atmosphere.
Following "Run", charismatic lead singer Dave Grohl led his group into a selection of their albums' lead singles, including "All My Life" (the lead single from 2002's One By One), "Learn To Fly" (1999's There Is Nothing Left To Lose), "The Pretender" (2007's Echoes, Silence, Patience & Grace) and "Rope" (2011's Wasting Light), before diverting into the Taylor Hawkins-sung "Sunday Rain" – sung as "Saturday Rain", due to the weather.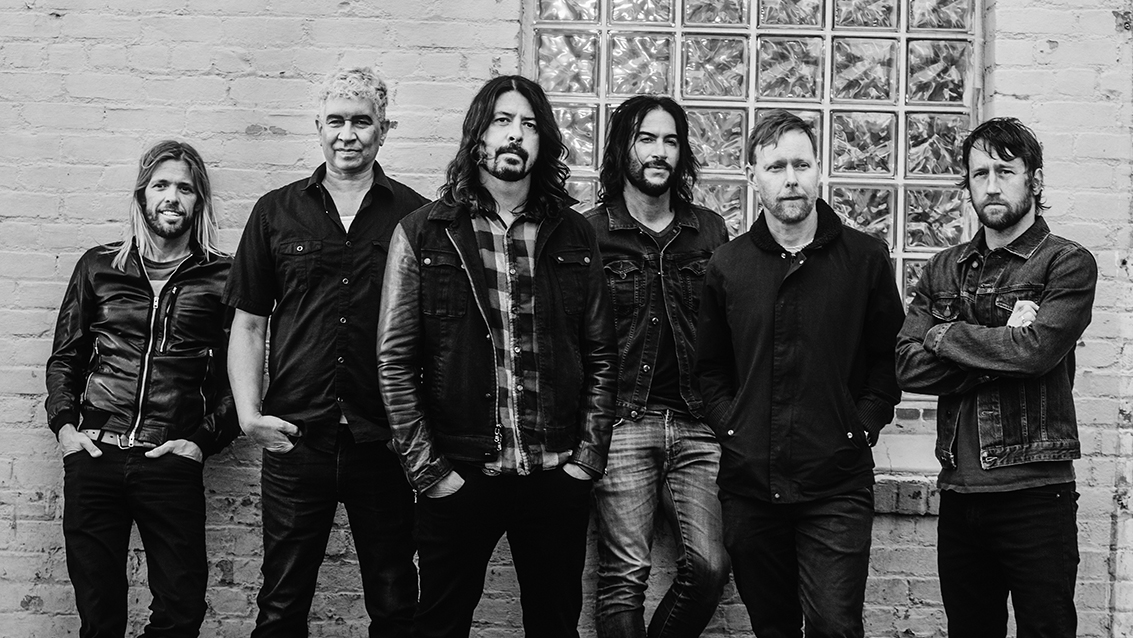 To be honest, the set lulled a little from here. The next song was their now-legendary "My Hero" – which I found oddly affecting; I've played that song in a handful of bands, so hearing it again in a live setting made me oddly nostalgic for the good old days, and had me thinking fondly of friends back home in Whangarei. But following that, they launched into a string of somewhat forgettable singles, an over-long version of "Breakout", and a string of half-arsed covers while Grohl introduced the various members of the group, capped off with a rendition of Queen's "Under Pressure", with Taylor Hawkins filling the Freddie Mercury role while Grohl played drums and sang the Bowie portion of the track.
It is worth mentioning that – by this point of the evening – I was soaked through to the bone. By the time the Foos launched into "Monkey Wrench", it was after 10.00pm and I'd been standing in the rain, thoroughly unprotected from the conditions, for around four hours. I was shivering. I was saturated. And as they launched into a fairly downbeat end to their main set, featuring a cover of Kiss' "Detroit Rock City" with Weezer singer Rivers Cuomo, I was starting to wish they'd just get on with it.
As the low temperatures of the late night started to set in, I was hoping for something more energetic, and the set-closer "Best Of You" delivered. The band left the stage to massive applause, before returning with a slow version of "Times Like These" and a stadium-shaking performance of the fantastic "This Is A Call", before capping off with an extremely slowed down version of "Wheels" and a fairly straightforward version of their biggest hit "Everlong" (which you can see below).
Overall, a strong set – not overly different from the last couple of times I've seen Foo Fighters live, and there is an element of samey-ness when a band is sticking to their own tried-and-true formula. But it is easy to get past that when the band is as adept at what they're doing as Foo Fighters are. It was a long (and cold) show, but it was entertaining throughout.
A good night had by all. And as a bonus, the best shower I've ever had afterward, too.
Foo Fighters' latest album, Concrete And Gold, is available now.
Weezer's latest album, Pacific Daydream, is also available now.