Now that 2017 is in the bag, let's take a look forward at some of the films I'm most looking forward to this year …
The Shape Of Water (Jan 18)
Guillermo del Toro is at his best when he tackles a more intimate story like Pan's Labyrinth or Crimson Peak – or like this period piece starring Sally Hawkins as a maintenance worker who falls for a captive sea creature.
Downsizing (Jan 25)
Alexander Payne directs Matt Damon and Hong Chau in this film about a future where humans can be shrunk to around 15cms tall in the name of conservation. Several outlets called this the best film of 2017. Colour me fascinated.
Cloverfield Movie/God Particle (Feb 1)
The less I know about this going in, the better. All I can tell you is that I love Cloverfield and 10 Cloverfield Lane.
Black Panther (Feb 15)
Avengers: Infinity War (Apr 25)
Ant-Man & The Wasp (Jul 5)
Marvel's Cinematic Universe hits the first of its closing chapters in April when everybody gets together in Avengers: Infinity War – but before that, Black Panther returns for a solo film set in the fictional country of Wakanda. Panther is one of the best comic books in production right now, and I have high hopes for his solo flick. Plus, the Ant-Man sequel in July should be a lot of fun too.
Annihilation (Feb 23; mid-March on Netflix)
Natalie Portman plays a scientist who investigates a mysterious (and likely alien) phenomena after the disappearance and reappearance of her husband. A visually splendiferous film from the team who brought you Ex Machina – and thanks to producer fuckery, we get to see it on Netflix!
Ready Player One (Mar 29)
If you can name all the references in the below trailer for this film – directed by Steven Spielberg and based on the pop culture-heavy sci-fi novel from Ernest Cline – I will give you $50. I feel sure that you can't.
The New Mutants (Apr 12)
Deadpool 2 (May 31)
X-Men: Dark Phoenix (Nov 1)
The line-up of X-Men films from Fox suddenly got a lot more interesting last month when Disney purchased Fox, with talk that the X-Men would be rolled in to the Marvel Cinematic Universe. Will these form the final chapters of this franchise? Will Deadpool reference the MCU in any way? Will New Mutants – a horror film – be used as a jumping off point? My guess is that Deadpool will tie-in down the track, and New Mutants will remain a standalone.
Solo: A Star Wars Story (May 24)
Also suddenly an intriguing proposition given the behind-the-scenes shenanigans, lacklustre response to Rogue One: A Star Wars Story, and the recent backlash to Star Wars: The Last Jedi. Plus, this film is coming out in like five months, and there is no trailer yet? Hmm.
Jurassic World 2: Fallen Kingdom (Jun 21)
You know what? Jurassic World was fine – it was fine! And Chris Pratt is charming. And dinosaurs! DINOSAURS, MAN!
The Incredibles 2 (Jun 28)
Ralph Breaks The Internet: Wreck-It Ralph 2 (Dec 26)
A sequel to one of the greatest superhero films ever made, and a sequel to one of the most-under-rated pop-culture-heavy animated films of the last few years? I'm in.
The Predator (Aug 2)
Shane Black is one of our best action writers/directors – Lethal Weapon 1 and 2, Iron Man 3 and The Nice Guys, to name just a couple – plus he has a link with the original Predator film, which is still one of the best action/sci-fi films ever made. And an intriguing cast: Sterling K Brown, Boyd Holbrook, Olivia Munn, Keegan-Michael Key, Alfie Allen … okay, okay, I'm keen.
Mortal Engines (Dec 13)
Peter Jackson produces this dystopian/cyberpunk epic about a world in which entire cities are mounted on wheels and hunt each other across the globe – it sounds insane, but it also sounds (and looks) insanely good.
Aquaman (Dec 26)
No film in 2018 has as much riding on it as Aquaman: following the reception to Justice League, Batman v Superman: Dawn Of Justice, Suicide Squad and Man Of Steel, it needs to be a critical and financial hit, or else it risks sinking DC/Warners' movie plans. Luckily, they've proven they can make a good solo flick (Wonder Woman), so there is at least some hope. No trailer yet, but enjoy this GIF: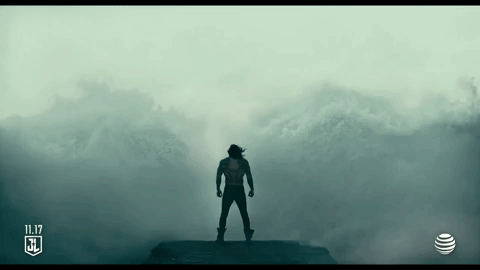 .
What films are you looking forward to in 2018?