The second episode of Sunny Skies – the new local comedy from Mike Smith and Paul Yates, starring Oliver Driver and Tammy Davis as half-brothers thrown together after the death of the dad neither of them knew, and tasked with running the holiday park he owned – aired on Friday night (TV3, 8pm), entertaining throughout and proving that the brilliant first episode wasn't a fluke; this is the best new local comedy of the season. There is just so much to love about this show.
(Spoilers from the first two episodes of Sunny Skies follow.)
For a start, the setting is near perfect. One of the major complaints – repeated again in the comments last week – is that local shows are all set in Auckland, which is a fair statement; most shows are filmed in Auckland, because that's where most production companies are (though I think shows like The Blue Rose or Agent Anna are painted broadly enough that they aren't just about Aucklanders, despite the obvious setting).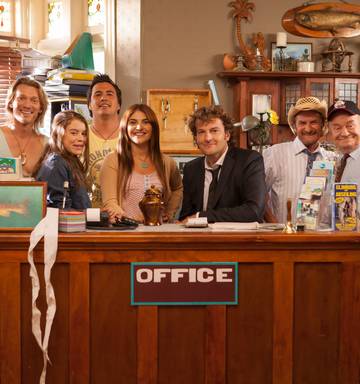 Skies bucks the trend by taking things rural, focusing the action on (and around) the Sunny Skies Holiday Park and making fun of that most Kiwi of traditions. Heck, I'm the most indoor person there is, and even I've been camping on more than one occasion. And with the action filmed at the real life Sandspit Holiday Park, in Warkworth, there is plenty to relate to.
Sunny Skies looks and feels like a real holiday park, whether it's the seaside location, or the grunt of rubbish trucks picking up litter, or the family who brought way too much equipment with them. As much as I've enjoyed The Blue Rose and Agent Anna, getting out into the fresh air, with a little sun on our backs, is a nice change of pace. Skies might be the best case so far for why productions should head out of the big city more often, whether it needs to or not. It feels like true Kiwiana.
The cast is brilliant, too. From Driver and Davis as our fantastic leads Oscar and Deano, to Molly Tyrell as Deano's daughter Charlotte and Morgana O'Reilly as sassy manager Nicki, to Erroll Shand as onsite handyman Gunna, to Ian Mune and Mick Innes as a pair of locals ("we're not gay … we're homosexuals"), Smith and Yates have brought together the most likeable cast on television. There isn't a weak link amongst them.
I'm still not sure about the shows' sense of humour though. The first two episodes have had their share of laugh-out-loud moments – the meeting with the lawyer/real estate agent, the dialogue between Oscar and rubbish collector Sione – and plenty of little moments of hilarity (the lawyers reaction to spying a stuffed possum in the meeting room, for example).
But, if I'm being fair, Sunny Skies has only been sporadically funny. Plenty of moments have worked. Plenty of moments have totally missed, too – predictable gags, like blowing up the boat with Oscar and Deano's fathers ashes on board, or silly gags, like Gunna perfecting his "freezzbee" technique against a wall.
Luckily, the show makes up for it with that great setting and that perfect cast, and just enough pathos – there is something loveable about the tale here, even if a short-run local comedy might have trouble doing it justice. And even though it isn't making me laugh on a consistent basis (yet), I'm in on Sunny Skies. It's not the best Kiwi comedy ever, but it's the best new Kiwi comedy this year. And I reckon it might get even better, before it's done.